Become Your Escort's Favourite Client with These Tips!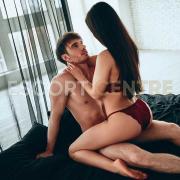 Being a high-class escort's favourite client is not about gifting them regularly and booking holidays together. While all those things fall into the escort experience, when it comes to becoming a regular client to your escort, there are other factors that contribute to it.
Interestingly, when asking escorts what makes a client a favourite, they listed several key traits that matter the most.
1. Respect
You can splash your money to treat your escort date, but none of it will matter as much as your respect for them. If you cannot establish a realistic and appreciative relationship with your escort, you can't expect your bond to blossom or develop. Becoming a regular (and a favourite!) clients to your escort can only begin when you value her as a person and the professional she is.
2. First Contact
In essence, the escort dating business doesn't come with written etiquette rules, but they still exist somewhere between the lines. When first meeting your escort, it is essential that you respect the professional side of it. Another important thing that will leave a great first impression on your escort is paying promptly. That said, most clients should pay their escort before their date starts, and in full. Trust me, you will never become an escort's regular if you keep bargaining the fees.
3. Booking Instructions
Escorts usually work around a busy and precisely determined schedule. Therefore, it is recommended you learn all booking policies before booking your date. In addition, keep on mind that your preferred escort might not be always available to meet you, but then, you can make your booking ahead of time. Anything other than that, especially being unrightfully demanding when booking a date doesn't make you shine in the right light.
4. Minding Boundaries
If you want your escort to genuinely enjoy spending time with you, keep respecting her rules and boundaries. Not all high-class escorts provide the same services, so don't get carried away in asking for a service your date doesn't offer. When a client is too pushy or demanding, an escort takes it as a red flag and likely won't accept any future bookings with you. On the other hand, if you are on time and always open to adjusting to your date's boundaries, you might score yourself a next date soon!
5. Preparation
One of the most off-putting things escorts find about clients is bad hygiene and poor preparation. When meeting an escort, you want to look and feel your best, and you want to show yourself in a great light. Escorts appreciate clients who take time to dress up for their date and know that maintaining a clean and inviting space is the key to booking more than one date with your favourite girl!
For more weekly blog vist the weekly blog at Escort Centre.